Here are 10 Swimming Pool Service Tips that you should do on a weekly basis to make sure your swimming pool is in tip top shape this summer. Whether or not you've just moved into your home or you've been a proud owner for years.
1. Skimming
Skimming the leaves off of the surface of the water may be a daunting task. For a very well kept pool, skimming is a must bi-weekly. In addition to skimming, you would like to wash the sides of the pool to stop alga build-up. Simply seek for any growths and clean them with a scrubber until clean. For those significantly stubborn spots you may have to use some old fashioned of elbow grease. Good chemicals can eat away at the alga.
2. Think about Your Filter As Your Swimming Pool's Kidneys
Just as your kidneys get rid of impurities from your body, your pool's filter is accountable for removing impurities from the water – assume dirt, leaves, and even little toys may lurk under the water. Most of the time, the pool will be clean by turning off your filter, removing the filter cap, taking out the basket and then removing any trash before replacing everything. It's best to scrub out your filter basket a minimum of once every week.
Once a month you'll additionally need to scrub out the pipes used by your filter system.  To do so, merely set your filter to "backwash," take away the leaf basket and clean it out. Then activate your pump and let it run till the drainpipe ejects clear water.
A final note on turning the filter on and off. Set your filter on a timer and permit it to run a minimum of six hours on a daily basis.
3. Swimming Pool Service Requires Consistent Chemical Levels
Chemical levels are the foremost necessities of pool maintenance. Improperly balanced water appears murky, irritates skin and eyes, and might cause your pool to become a magnet for dirt and debris.
6 chemical levels to be considered:
Cyanuric Acid – Protects chemical element from daylight and determines the specified chemical element level.
Acidity/Alkalinity – additionally called the pH level
Total pH – Helps keep the pH in balance at intervals of 60-120.
Calcium – Aim for 220-350, however, lower for pools with vinyl siding.
Testing the water is simple. You can obtain a number of testing kits from your neighborhood pool store. Fill it with a sample of your pool's water. Add the provided resolution to the testing kit and test it out.
4. Chemicals costing too much?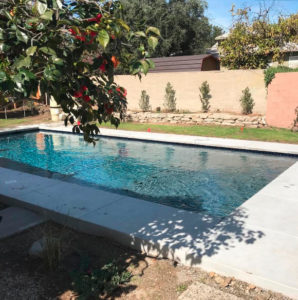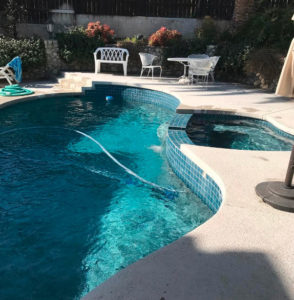 We by chemicals in bulk so we can give you the best possible price, using only the best chemicals for your pool. Call today for a free quote (909) 240-8531.
Bertino Swimming Pool Service
5. Don't Be Afraid To Shock A Cloudy Pool
On the subject of chemicals, don't be afraid to shock your pool once necessary. But, suppose however your pool doesnt look good and you plan to throw a giant pool party. It's murkier than it had been the day before the large bash.
Shocking refers to drastically raising the chemical element levels for a brief amount of time. It's done by diluting 3 to 5 times the traditional chemicals or alternative, slowly pouring it into the pool, filtering throughout your swimming pool, so slowly replace the water over time.
6. Keep Any Eye Water Levels
You want to take care of levels halfway up the gap of your skimmer. If the water level is simply too high, rent a submersible pump from a home improvement store to empty the surplus or call Bertino Pool Service. If your pool's liner is simply broken by the load of the pump, take into account consulting an expert.
When you've reached the suitable water level, keep in mind to recheck the chemicals. The water level fluctuations can have thrown them off.
7. Get Rid Of Oils
When swimmers exit the pool, some oils will get left behind within the water – suntan lotion, hair product, the natural oils created by our skin. Simply throw a ball into the water. The fibers can absorb the oils and keep them from messing up the chemical balance in the water.
8. Power Wash to create The Pool Deck Shine
Power cleaning can facilitate rust or weather damage that occurs over time. Start the method by sweeping the deck free from any dirt, debris or leaves. As you spray, take care to overlap the areas you've already cleaned to stop streaks. You'll need the nozzle of the washer many feet off the surface of the pool deck and maintain this height to stop gouging.
9. Schedule A Weekly Pool Service
Choosing Bertino Pool Servivce is a particularly good choice for swimming pool service all year long – pumps, filters, heating systems – we can do it all. Before your appointment, take a moment to inspect your pool, ensuring to use all of your senses. Compile an inventory of any leaks you see within the piping, holes you notice within the walls or liner, loud sounds coming back from the mechanisms, or odd smells coming back from the water. Mention them to Bertino Pool Service so we can fix all of these problems.
10. Prevent accidents and Injuries
Taking the proper steps to properly clean your pool save time and cash on repairs for next season. You cab go to your local pool service store and pick up a water testing kit to make sure your chemicals measure properly and they are well balanced. Then, blow any extra water out of your plumbing lines, and make sure the pool is free of any dirt or oils.
Keeping a pool in its best condition will require a little labor, however it shouldnt become a burden. By incorporating these pool maintenance tips into an everyday cleansing routine, you can do more sunbathing and less chores.
Call today for a free quote (909)240-8531