Bertino Pool Service specializes in Weekly pool maintenance service in Upland, CA and surrounding areas. In ten years weve done every size pool imaginable, from mansions to kiddie pools were not joking, we have done it all. Here is some tips and tricks to help keep your pool blue all year long presented by Bertino Pools:
Weekly Pool Maintanance Is The Key
Bertino Pools offers weekly cleaning during the swimming season and off season to ensure clean and safe swimming water for your kids, family, friends and all the ones you love most.
Skim Pool For Leafs, Bugs, Debris etc
We recommend using a long light weight skimmer usually about 10-12 feet long to catch leaves, bugs, flowers and any other messy debris hanging around in your swimming pool. Clear debris with skimmer while its still on top of the pool if possible. Weekly pool maintenance should include skimming two to three times a week.
Vacuum Regularly
We recommend running your vacuum 2-4 hours a day depending on the season, temperatures and how quickly the pool is getting dirty. We also cover this in our weekly services. Check out our pool services page for more info.
Is Your Water Circulating Correctly?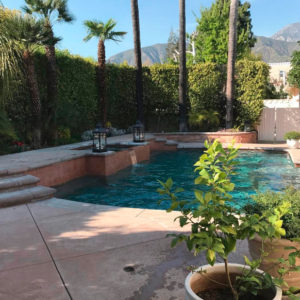 The pool system circulation helps your chemicals work sufficiently and guarantees that water is clear and blue in your swimming pool all summer (and winter) long. As always check your pump equipment and make sure everything is in good working order. We recommend running your pump 2-4 hours a day at fist to see if a good percentage of water is properly filtered.
Brush The Walls Thoroughly
We recommend using an aluminum handled brush to remove algae / dirt that has built up on the sides, steps and floor.
Check Your Filter Regularly
We recommend checking your filter at least once a month, maybe even twice a month during the beginning of summer.
In conclusion:
Caring for your pool is what we live for. Make sure your equipment is clean and up to date. If you need help feel free to call us anytime at 909-240-8531